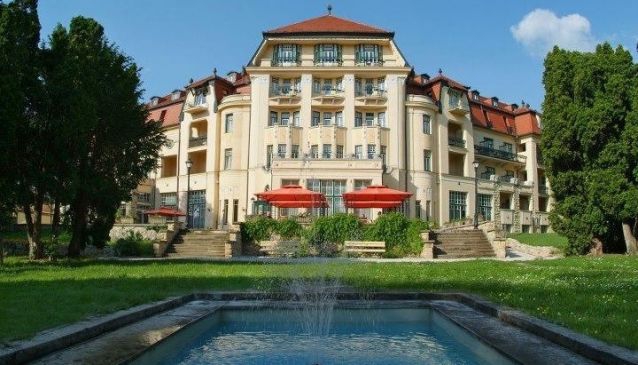 The Top Five Spas in Slovakia
Retreats & Relaxation
The waters of this spa contain excellent quantities of magnesium and calcium
This world-famous spa dates back to 1822, when the Erdödy family constructed it in the aftermath of the Napoleonic Wars. Since then, the original venue – known unofficially as 'Napoleon's Bath' – has undergone major developments, largely thanks to the Winter family who adopted it at a later date.
The spa, which is now surrounded by several Art Nouveau hotels, a golf course and tennis courts, is located in the northern part of Lower Povazie, a region nestled against the foothills of the Povazsky Inovec Mountains. It is renowned for its geothermal waters and sulphuric mud, which reputedly have medicinal values and as such incredible therapeutic healing properties.
The spa boasts almost 2,500 rooms, from economy standard to suites, and the area is dotted with picturesque fountains and statues.
This spa is steeped in history which creates a deeply relaxing atmosphere – the first recorded mention of the spa was made all the way in 1247. The location of the venue is absolutely stunning: set in western Slovakia within the folds of a great valley, whose slopes are cloaked in dense forest, it is no surprise the spa's nickname is the 'pearl of the Carpathians'.
Although the spa was first mentioned in the 13th Century, the current building was constructed in the 19th Century, and is an architectural delight, taking its inspiration from the hamams of Turkey.
This spa enjoys a massive amount of popularity, for all the reasons mentioned above, but also because of its healing properties. It specialises in the prevention of musculoskeletal problems – both after operations and injuries – and the healing waters are naturally fixed at a dreamy temperature of 37.7 – 40 °C.
The natural thermal springs that feed this spa were first discovered in 1761, and since then this spa has developed into one of the best in Slovakia. Containing natural carbon dioxide and carbonic mineral water, this spa has amazing healing properties and the water lounges at a tempting 32 °C.
It is one of the only spas in the world to specialise in women's diseases – especially gynaecological ones, for which there is a complete therapy program – so the clientele is mostly female for obvious reasons. Treatments include massages, steam baths, peat wrappings and physical rehabilitation exercises.
The surrounding scenery is spectacular, which offers even more of a relaxing atmosphere. Forested mountains and gushing waterfalls are the hallmarks of the natural surrounds.
This spa is famously unique in not only Slovakia but all of Central Europe for having a combination of hydrogen sulphide and carbon dioxide seething throughout its balmy, crystal-clear waters. What this means for all you non-chemistry students is that the waters heal not only affected loco-motor systems, but also cardiovascular systems. The only other known water in Europe with these specific properties is at the Vichy spa in France.
The spa caters for a variety of needs and desires from its guests, who can choose between relaxation-based, medicinal-based, or special-based stays. One thing that remains the same, however, it the spa's total dedication at all times to its guests' enjoyment and happiness.
The spa is happily compact: all its services are provided in one place, which is perfect for couples or groups with individuals who are seeking differing treatments. There are two accommodation centres – Spa House Rubin and Spa House Smaragd – which are connected by a corridor.
One of the highlights of this amazing spa is its so-called cave bath – known locally as Parenica – which each morning receives a gushing deluge of natural thermal spring water until full. This characteristic is the only one in the whole of Europe and makes for an lovely wakeup activity.
The waters of this spa contain excellent quantities of magnesium and calcium, which are perfect for treating nervous disorders, key organs and injuries. But even if you're perfectly healthy already, this spa is strongly recommended simply because its waters have such a hypnotically glorious effect on the body, ensuring you'll emerge refreshed and happy.
There are five bath houses in total at this spa, along with a nice café, a helpful reception desk and other buildings dedicated to various service, including massage.