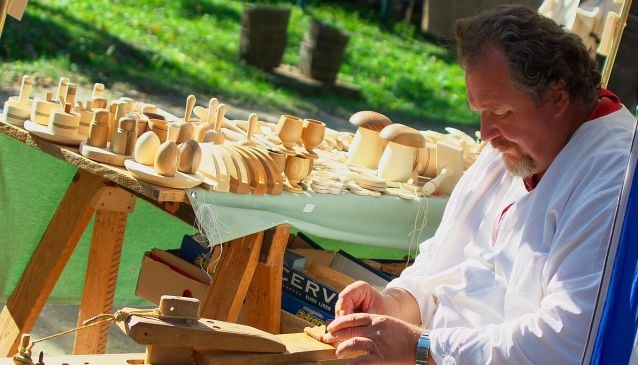 Michael's Craft Fair
Arts & Culture
Michael's Craft Fair is a traditional event held each year at the Museum of the Slovak Village.
Michael's Craft Fair is a traditional event held each year at the Museum of the Slovak Village, colloquially called the folk museum in Jahodnícke háje in Martin. Here, in a beautiful natural setting between the spruce forests, one will see an indigenous and picturesque village of old log structures, and cottages from the regions of Turiec, Orava, Liptov and Kysuce which were transferred here.
Each year different traditional crafts and trade mainly from various parts of Slovakia welcomes the public. Sometimes there are craftsmen and traders from neighbouring countries as well. Thus, you can see true carvers; blacksmiths, tinkers, processors, leather producers, potters, ceramists, textile processors, wickerworkers and honey-cake makers (see pictures), or find traditional fresh delicacies directly from bakers. You can watch them at work, and if you like their products try one, or even better, you can buy them. We find the prices truly affordable! According to the good old tradition, a great buy should be washed down with a cup of spirit :-).
This year, a street accordionist and an organist with his vintage pinball machine (see picture) driven by a crank handle took care of the good mood, and we liked it very much, since without the pleasant music the atmosphere would surely have lost its magic. Visitors could take a look at the exhibitors and collectors of old coins, money, postcards and other antiques and possibly also make a trade or an exchange with them.
The fair's past times atmosphere was enlivened by other various attractions as well. Anyone who was curious about a near or distant future, could have her/his fortune read by a Gypsy. At this year's Michael's Craft Fair at the Museum of the Slovak Village, there was also a puppet theater from the Spiš Castle with the play 'O Katarínke'. It is based on a medieval theme - the story of love that conquers hell and saves the kingdom.
Usually various folklore groups perform at the event as well. At this year's event visitors could have taken a photo dressed in traditional folklore costumes in a contemporary photo studio. Furthermore, they could have taken a ride in a horse-drawn carriage, or attend a Roman Catholic Holy Mass in the old wooden church.
When participants felt tired after a long but pleasing walk, they would sit down on the grass of the cottages in the shade of trees. Or people would enjoy good food and a drink in one of the typical Slovak pubs. Well, it was really worth visiting such a wonderful event at the Museum of the Slovak Village. It is a place where one can cheer up and gather a lot of unforgettable experiences, and to witness the relaxation while being immersed into the vivid images and traditions of the past centuries in order to see how life used to be in Slovakia before.